AUGUST 10, 2021
BAC's Webinar on LEED & Evaporative Cooling Equipment
Baltimore, MD (August 10, 2021) -
Webinar on LEED & Evaporative Cooling Equipment: What You Need to Know
September 8, 2021 - 12pm EST
Image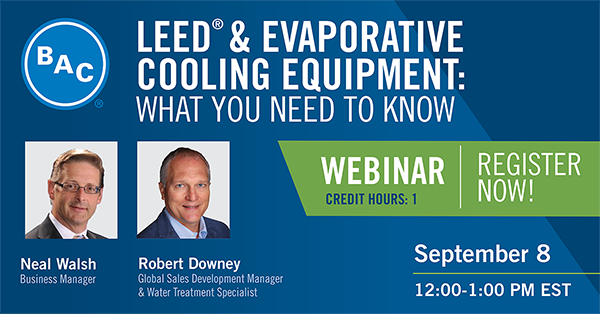 Join Baltimore Aircoil Company's experts for a webinar on LEED & Evaporative Cooling Equipment: What You Need to Know. Attendees will understand how to maximize LEED Version 4 credits for evaporative cooling equipment by selecting the appropriate materials and filtration systems. Attendees will also understand LEED design considerations and solution options, identify key criteria when selecting cooling towers to maximize LEED points, and explore design paths with the greatest value for your applications.
Presenters
Neal Walsh

is the Business Manager, HVAC for BAC. Neal has over 30 years of experience in the design of HVACR systems. Prior to joining BAC, he was a founding partner of a green HVAC technology start-up. He is a frequent presenter at MCAA, ASHRAE and other industry events. He is passionate about learning to sail.

Robert Downey

is the Global Sales Development Manager and Water Treatment Specialist for BAC. Bob has over 30 years of experience in evaporative heat transfer. Prior to joining BAC, he spent over 20 years working for a global leader in water treatment technologies, helping clients optimize the use of water across their operations. Bob splits his time between Belgium and the United States. He is an avid cyclist and golfer.
Certificate of Attendance 
A certificate for continuing education credits will be available for those that register and attend the live event. This presentation is not registered with any state, so check your state's continuing education requirements if a credit can be applied with this webinar.
Recording
Registration is now closed, watch the webinar recording here.